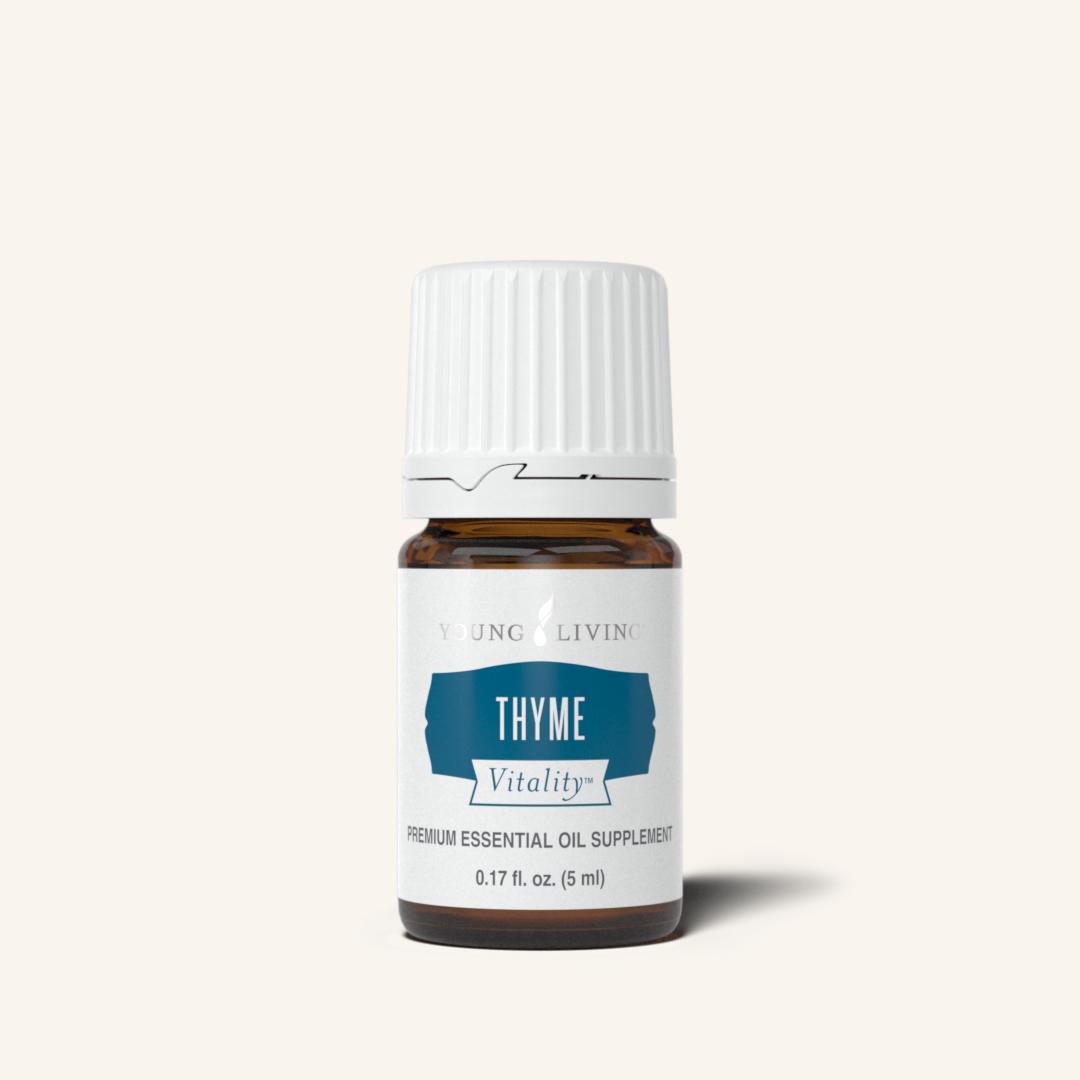 Young Living Thyme Vitality
Sale price
$19.74 USD
Regular price
Thymus vulgaris

Thyme Vitality essential oil contains the powerful antioxidant thymol that supports the immune system. It has a spicy flavor when added to your recipes.
ABOUT
Native to the Mediterranean region of Southern Europe, thyme is a woody evergreen shrub in the mint family that is traditionally used as a culinary herb. Thyme Vitality™ adds bold, herbaceous flavor to savory dishes, and can be used in place of the fresh or dried herb in recipes. In addition, this powerful essential oil contains the naturally occurring constituents thymol, para-cymene, and gamma-terpinenecan, which provide immune support and antioxidants when taken internally.*
DIRECTIONS
Dilute 1 drop with 1 drop of carrier oil. Put in a capsule and take up to 3 times daily.
FEATURES & BENEFITS
Has a bold, herbaceous flavor. 
Contains antioxidants*
May help maintain healthy lifestyle regimen*
May support a healthy immune system*
An important ingredient in Inner Defense, ParaFree, and Rehemogen
SUGGESTED USES
Add 1 drop of Thyme Vitality to a vegetable capsule and take as a dietary supplement to provide immune and general wellness support.*
Add Thyme Vitality to your favorite sauces and marinades for a boost of herbal flavor.
CERTIFICATIONS: Vegan Friendly, Cruelty Free, kosher Certified, Non-GMO Ingredients
KEY CONSTITUENTS: Thymol, Para Cymene and Gamma Terpinene.
SAFETY ITEMS: Dilute
SAFETY
Keep out of reach of children. If you are pregnant, nursing, taking medication, or have a medical condition, consult a health care professional prior to use.
INGREDIENTS: Thyme (Thymus vulgaris)† leaf oil †Premium essential oil
*These statements have not been evaluated by the Food and Drug Administration. Young Living products are not intended to diagnose, treat, cure, or prevent any disease.
0.17 fl. oz. (5 ml)