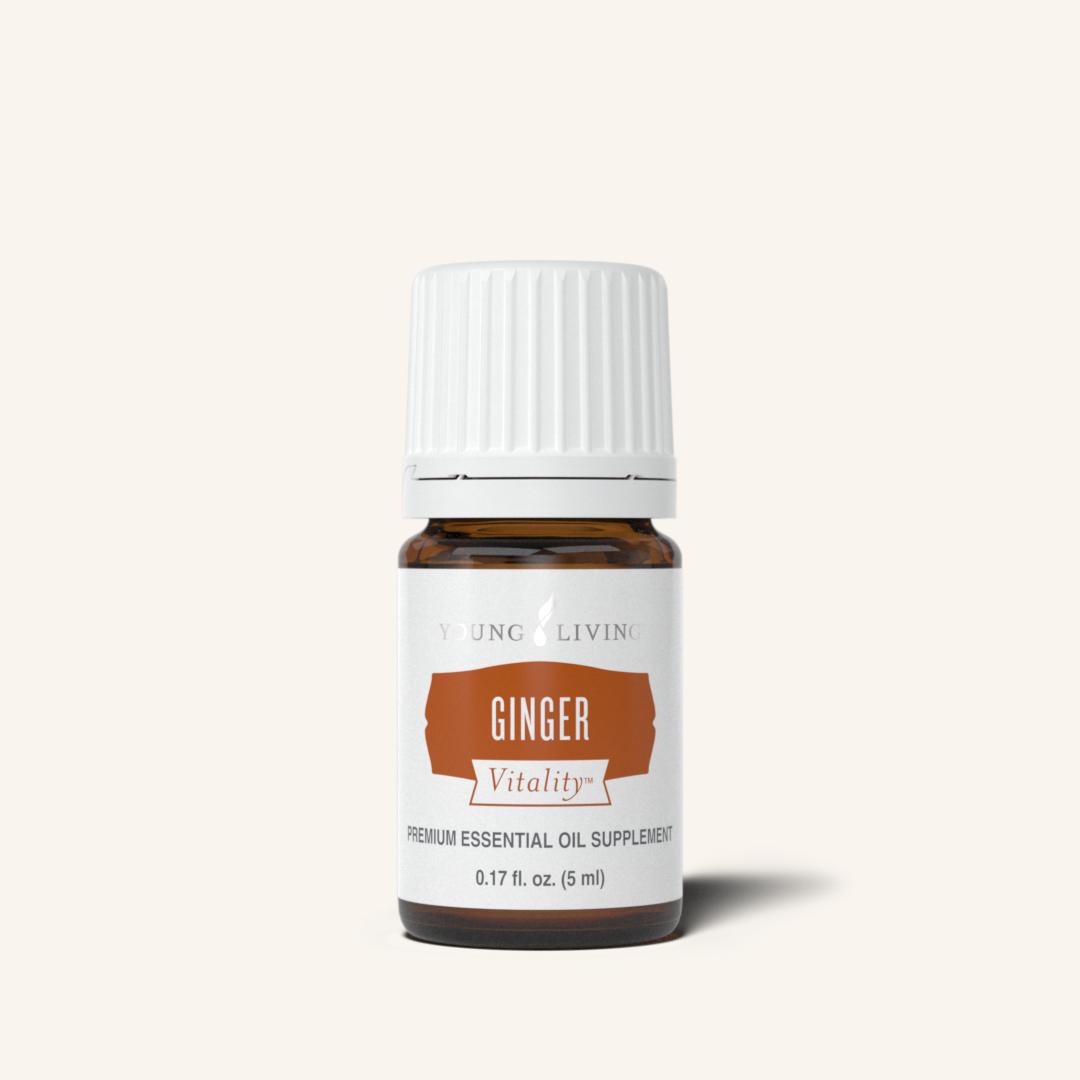 Young Living Ginger Vitality
Sale price
$19.74 USD
Regular price
Ginger essential oil is known as the "oil of empowerment." It offers a warm, spicy flavor that enhances soups, stews, and sauces, and may support a healthy digestive system when taken internally.*

ABOUT
Ginger is a member of the broader Zingiberaceae family. Traditionally used as a food flavoring and in herbal preparations in India and China, it was taken to the Mediterranean as early as the 1st century AD. Ginger Vitality™ has a delicious, spicy flavor that enhances both sweet and savory dishes, and can also be enjoyed on its own in warm water as an herbal tea. When taken as a dietary supplement, it may provide comfort for the digestive system and help to support weight management as part of a healthy lifestyle.*
DIRECTIONS
Dilute 1 drop with 1 drop of carrier oil. Put in a capsule and take up to 3 times daily.
FEATURES & BENEFITS
Has a warm, spicy, stimulating flavor
May provide digestive support when taken internally*
May support healthy weight management when combined with exercise and a healthy lifestyle regimen as a dietary supplement*
Can be used to enhance the flavor of soups, stews, sauces, teas, and more
SUGGESTED USES
Add to water, tea, or your favorite beverage for a flavorful boost that may support the digestive system*
Take as a daily supplement to support healthy weight management in conjunction with a healthy diet and exercise*
Use in cooking to add a warm, spicy flavor to your dishes*
CERTIFICATIONS: Non-GMO Ingredients, kosher Certified, Cruelty Free, Vegan Friendly
KEY CONSTITUENTS: Limonene, Para menthatriene, Sabinene, Alpha-pinene, Beta-pinene
SAFETY ITEMS: Dilute, Photosensitive
SAFETY
Keep out of reach of children. For external use only. Keep away from eyes and mucous membranes. If you are pregnant, nursing, taking medication, or have a medical condition, consult a health professional prior to use.
INGREDIENTS: Ginger (Zingiber officinale)† root oil †Premium essential oil
*These statements have not been evaluated by the Food and Drug Administration. Young Living products are not intended to diagnose, treat, cure, or prevent any disease.
0.17 fl oz (5 ml)