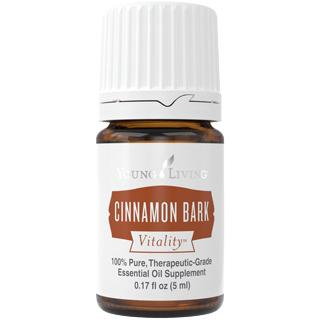 Young Living Cinnamon Bark Vitality Essential Oil
Sale price
$33.88 USD
Regular price
Cinnamon Bark Vitality™ essential oil has a warm, spicy flavor that complements a variety of classic culinary treats and drinks. Cinnamon Bark Vitality is not only great for elevating dishes, but it can also be taken as a dietary supplement and is an important ingredient in some of Young Living's most popular products, including Thieves® Vitality™ and Inner Defense™. Cinnamon Bark Vitality's warm taste and nostalgic notes bring a spicy addition to your favorite dishes. Cinnamon Bark Vitality can help support healthy digestive and immune systems.*

FEATURES & BENEFITS: Helps support a healthy immune system*
Has antioxidant properties*. Helps maintain a healthy lifestyle regimen*. Provides a spicy addition to a variety of foods and drinks. Includes the naturally occurring constituent cinnamaldehyde
AROMATIC PROFILE: From the bottle: Spicy, warm, and sweet
Ingredients: Cinnamon (Cinnamomum verum)† bark oil †100% pure, therapeutic-grade essential oil
APPLICATIONS:  Use it to help support a healthy immune system.*. Elevate your fruit smoothie or green drink with a drop of Cinnamon Bark Vitality and benefit from its antioxidant properties.*. Put a drop into your hot cereal for a little spice and to help maintain a healthy lifestyle.*
Substitute Cinnamon Bark Vitality in any recipe that calls for ground cinnamon.
EXPERIENCE: Cinnamon Bark Vitality's rich, warm flavor spices up a variety of dishes and drinks. Its versatility makes a great addition to many culinary creations, and it can be taken for dietary purposes to help support a healthy immune system and overall wellness.*
DIRECTIONS: Dilute 1 drop with 4 drops of a carrier oil. Put in a capsule and take once daily.
CAUTIONS: Keep out of reach of children. If you are pregnant, nursing, taking medication, or have a medical condition, consult a health care professional prior to use. If contact with skin occurs, avoid direct sunlight or UV rays for up to 12 hours.
*These statements have not been evaluated by the Food and Drug Administration. Young Living products are not intended to diagnose, treat, cure, or prevent any disease.
5ml