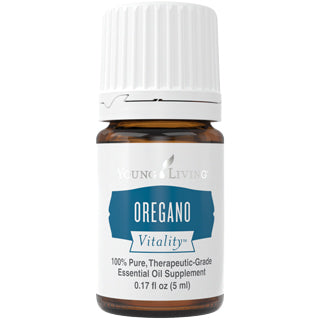 Young Living Oregano Vitality Essential Oil
Sale price
$17.76 USD
Regular price
Oregano Vitality™ essential oil does more than provide your meals with a depth of flavor; it can also support a healthy lifestyle.
Oregano Vitality makes flavoring savory dishes simple. With a distinctive, herbaceous flavor, it is an indispensable addition to Mediterranean and Mexican cuisines, though it can enhance the flavors in all your favorite recipes, from grilled chicken to roasted vegetables. While the potent flavor of Oregano Vitality makes it a delicious addition to dishes when used sparingly on its own, be sure to use a carrier oil such as V-6™ Vegetable Oil Complex or olive oil to dilute this powerful oil when taking it as a supplement.

FEATURES & BENEFITS: Supports a healthy lifestyle regimen*. May be used to enhance the flavor of foods. Is cleansing support for the digestive system*. Has antioxidant properties*. Provides immune support*
AROMATIC PROFILE: From the bottle: Strong, spicy, herbaceous aroma
Ingredients: Amount Per Serving Oregano (Origanum vulgare) †100% pure, therapeutic-grade essential oil
APPLICATIONS: Add Oregano Vitality in small amounts to various dishes for extra flavoring, particularly in Mexican and Mediterranean dishes. Put 1 drop of Oregano Vitality and 1 drop of V-6 oil in a veggie capsule daily to help support a healthy immune system.* Add a drop to a green smoothie to help cleanse the digestive system.*
EXPERIENCE: Oregano Vitality adds an earthy, warm flavor to savory dishes, along with the ability to provide immune support and cleansing for the digestive system.*
DIRECTIONS: Dilute 1 drop with 1 drop of carrier oil. Put in a capsule and take up to 3 times daily.
CAUTIONS: Keep out of reach of children. If you are pregnant, nursing, taking medication, or have a medical condition, consult a health professional prior to use.
5 ml