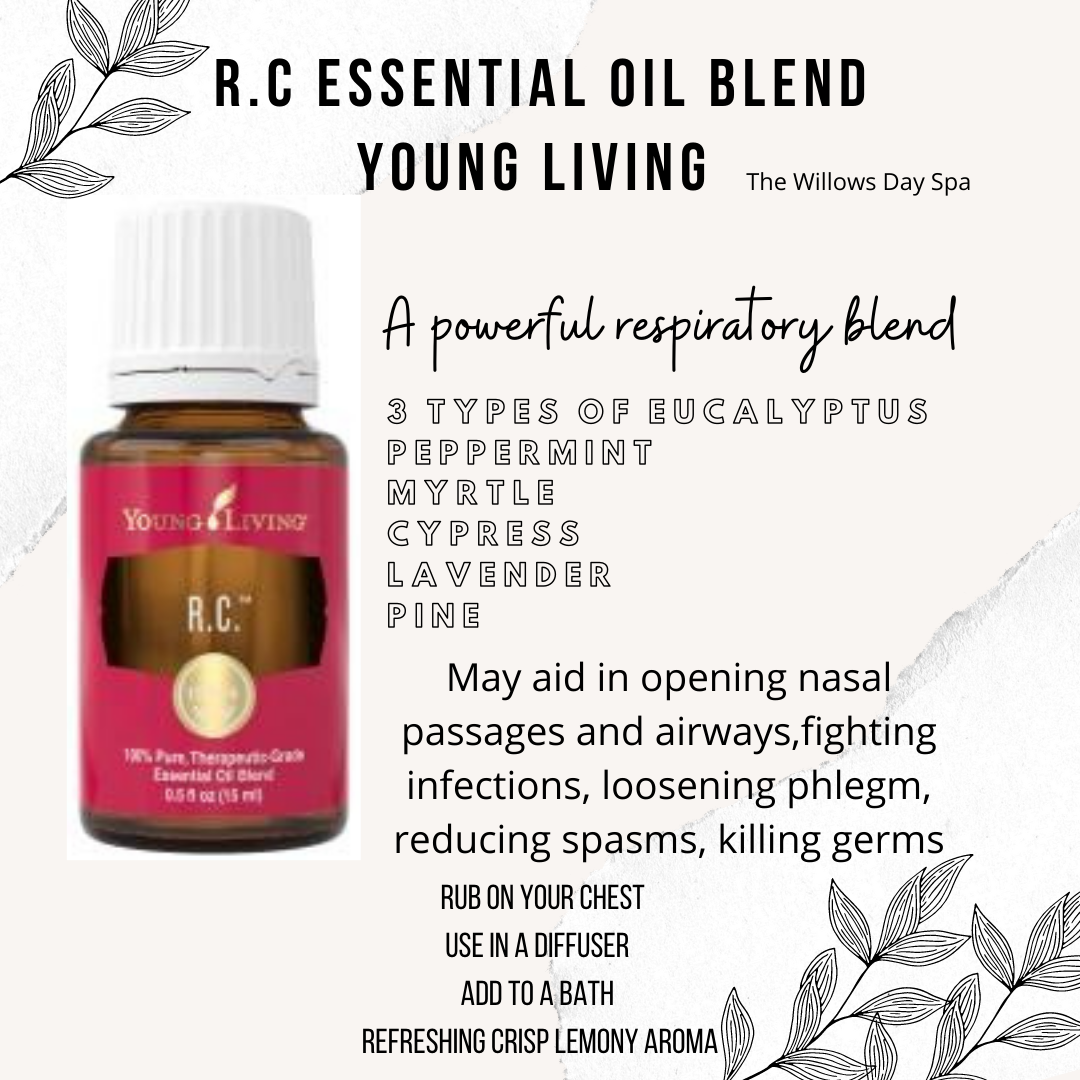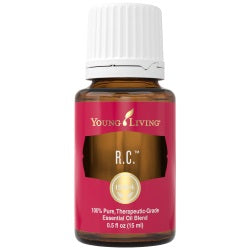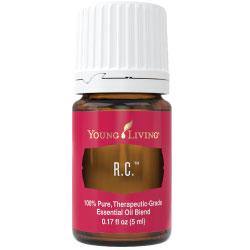 Young Living R.C Essential Oil Blend
Sale price
$31.91 USD
Regular price
R.C.™ is a powerful blend of Cypress, Spruce, and three types of Eucalyptus oils (E. citriodora, E. globulus, and E. radiata). Diffuse or apply it topically before, during, or after your workout. You can also combine R.C. with V-6™ Vegetable Oil Complex for an invigorating massage. This creates a relaxing, spa-like experience and can help when your day demands that you be out and about earlier than usual. Its robust scent will help you perk up as your day begins. R.C. is also a great substitute for Aroma Siez™ in Young Living's Raindrop Technique®.

FEATURES & BENEFITS: Topical: Provides a refreshing respiratory experience when applied to the chest
Aromatic: May support the feeling of normal, clear breathing
Creates an invigorating experience when added to a bath or shower
May be used as part of an exercise routine to help promote the sensation of deeper breathing
Can be diffused during the cold-weather season
AROMATIC PROFILE: From the bottle: Refreshing, crisp, lemony aroma
Ingredients: Eucalyptus globulus† leaf oil,  Myrtus communis† (Myrtle) oil,  Origanum majorana† (Marjoram) leaf oil, Pinus sylvestris† (Pine) leaf oil, Eucalyptus radiata† leaf oil, Eucalyptus citriodora† leaf oil, Lavandula angustifolia† (Lavender) oil,Cupressus sempervirens† (Cypress) leaf/nut/stem oil, Picea mariana† (Black spruce) leaf oil, Mentha piperita† (Peppermint) oil
†100% pure, therapeutic-grade essential oil
APPLICATIONS
Topical: Rub R.C. on your chest and the back of your neck before an early morning workout to promote the sensation of deeper breathing.
Use R.C. with V-6 Vegetable Oil Complex for a foot or back massage after your gym routine, outdoor adventure, or yoga practice to enjoy a refreshing scent.
Brighten your outlook during early morning errands by applying R.C. to your chest and wrists.
Apply R.C. topically with V-6 oil to your chest in the evenings for a refreshing respiratory experience.
Aromatic
Add a few drops to a hot bath or shower. The warm water will calm and soothe you, and the oil will diffuse with the steam for an invigorating and empowering experience.
WHERE TO DIFFUSE: Open your home with an aroma that will take you to the heart of a deep, cooling forest.
Invigorate your workout routine with a refreshing breeze of eucalyptus oil aromas.
Add power to your shower and fill your bathroom with this invigorating aroma.
Infuse your bedtime routine with a cool, effervescent scent for a deep sense of comfort.
Banish musty aromas from stuffy spaces and create the sensation of a fresh breeze.
Invite the comfort of crisp, rich, familiar scents into your hotel room when you are away from home.
Enliven a spa experience with the cooling, peaceful aroma of an outdoor refuge.
EXPERIENCE: R.C. has a cool and refreshing aroma that can help create the feeling of normal, clear breathing and create a refreshing respiratory experience when applied topically.
LABEL DIRECTIONS: Topical: Dilute 1 drop with 1 drop of V-6 Vegetable Oil Complex or olive oil and apply to desired area as needed.
Aromatic: Diffuse up to 30 minutes 3 times daily.
CAUTIONS: Keep out of reach of children. For external use only. Keep away from eyes and mucous membranes. If you are pregnant, nursing, taking medication, or have a medical condition, consult a health professional prior to use.