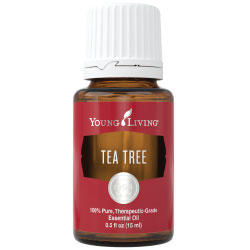 Young Living Tea Tree Essential Oil
Sale price
$39.47 USD
Regular price
Tea Tree essential oil, also known as Melaleuca or Melaleuca Alternifolia, is one of the most widely used and extensively researched essential oils, making it a must-have for every home. Because the benefits of Tea Tree include cleansing properties and a refreshing scent, this versatile oil can be used for everything from home cleaning solutions to skin care.

FEATURES & BENEFITS
Topical: May help reduce the appearance of blemishes
Helps maintain healthy-looking hair and scalp
Maintains the appearance of healthy skin and nails when applied to feet and toenails
May work as a naturally derived deodorants
Aromatic: Helps eliminate musky odors
KEY CONSTITUENTS: Terpinen-4-ol, Gamma-terpinene, Alpha-terpinene, 1,8-cineole (Eucalyptol), Alpha-terpineol, Para-cymene, Limonene, Aromadendrene, Delta-cadinene, Alpha-pinene
Ingredients: Melaleuca alternifolia† (Tea Tree) oil †100% pure, therapeutic-grade essential oil
APPLICATIONS: Topical-Add it to homemade soaps and moisturizers to experience its cleansing properties. Apply it to skin as part of your nighttime routine to help maintain the appearance of healthy-looking skin.
Aromatic: Diffuse it to combat stale or unpleasant odors in the home. Combine it with citrus scents such as Lemon or Lemongrass for a natural deodorizer. Combine Tea Tree with water in a small glass spray bottle and use to freshen linens and towels.
EXPERIENCE: Tea Tree essential oil has a fresh, invigorating scent that can be diffused to mask unpleasant odors. Tea Tree also makes a great addition to skin and beauty products because of its cleansing properties.
WHERE TO DIFFUSE: Combat the pungent odor of gym clothes radiating from your laundry room before tackling the endless pile of clothes and linens. Put your feet up and dissolve your day's stresses in any room of the house with this renewing aroma for a memorable at-home spa experience. Jump over any mental block and stay focused with its clarifying, refreshing scent during late-night study or work sessions. Create a natural deodorizer for the kitchen after cleaning out the fridge by combining Tea Tree with one of your favorite Young Living citrus essential oils.
DIRECTIONS Topical: Apply 2–4 drops directly to desired area. Dilution not required, except for the most sensitive skin. Use as needed.
PRODUCT BACKGROUND
For centuries Tea Tree essential oil has been beloved for its countless wellness and beauty benefits. Today it's one of the beauty industry's favorite essential oils. Tea Tree essential oil is steam distilled from the leaves of the Melaleuca alternifolia tree, native to Australia; the tree is part of the Myrtaceae botanical family.
15ml